The Causes Of Dry Cannabis Leaves And How To Prevent Them
Published : Jul 28, 2018
Categories : Cannabis cultivation
Although there are a few situations where dry cannabis leaves are normal, they are often a sign of a more serious issue. Here's a guide on the numerous potential causes of dry leaves, and what you can do to remedy or prevent the situation altogether.
When the leaves of your cannabis plants become dry and brittle, there is a reason for it. In many cases, this can be a sign of a more serious problem. When you spot dry leaves, you should act quickly in order to prevent further damage to your precious plants. Learn about the possible causes for dry leaves and how you can prevent them from occurring.
COMMON CAUSES FOR DRY AND CRISPY CANNABIS LEAVES
1. OLD FOLIAGE
One instance in which you don't need to worry too much about dry cannabis leaves is if your plant is old. In the later stages of flowering, close to harvest time, it is not unusual for some of the larger fan leaves to turn yellow, wither, and dry out.
Dry and crumpled old leaves at the bottom of your flowering plant, with the growth on top looking fine, is quite common. The older your plant gets, the more dry the leaves become, starting from the bottom and moving toward the top. Again, no need to worry.
Sometimes, yellow or dry leaves also occur in very young plants that have just grown their first set of real leaves. Here too, this is normal and is no cause for concern.
WHAT TO DO ABOUT IT?
If your cannabis plant is in the late stages of flowering and you spot yellow and dry leaves at the bottom, some careful defoliation can help focus the plant's energy on maturing those buds.
2. OVERWATERING
Overwatering is one of the most common reasons for a whole lot of cannabis problems. It can be the reason behind most nutrient deficiencies and can bring on problems with mould and fungi. Overwatering can also lead to yellow, dry, and brittle leaves.
Although plants need water for healthy growth, too much of it isn't good either. Your cannabis plant can only take up a certain amount of water at a time until all the cells of the plant have reached their capacity. When the growing medium is saturated with water, the cells start to rupture. When this happens, the leaves become dry, brittle, and yellow-brown.
WHAT TO DO ABOUT IT
If you suspect overwatering as the cause for your dry leaves, water less frequently. It is best to always allow the substrate in the pot to mostly dry out between waterings. A good way to test the water saturation level in your container is to pick up the pot and test by weight. If it feels quite light and the topsoil is fully dry, you'll know it's time to water again.
3. INSECT INFESTATIONS
Insect pests can cause significant stress and harm to your plants, and are yet another cause for dry leaves. Some common pests, such as spider mites, can do their damage before you even notice them because they are so tiny that they're invisible to the naked eye. Only when you check your plants with a loupe or a microscope can you see the tiny spider-like critters that might have already eaten holes in the leaves, ultimately causing them to turn yellow and crumple.
Fungus gnats are another common pest that is bad news, especially for seedlings and young plants. These small insects have a dark black colour and resemble tiny flies or fleas. If they appear, you can normally spot them on the topsoil where they lay their eggs. In the case of fungus gnats, they are often a sign of overwatering, since they love a moist environment.
WHAT TO DO ABOUT IT
For common cannabis pest infestations, including mites and other aphids, look into natural eradication methods. Insecticidal soap and neem oil are easy and effective insecticides that you can safely use for many types of cannabis pests. They are mild enough to not damage your plants and don't contain harmful synthetic chemicals.
If you have a fungus gnat problem, you can catch these with yellow sticky traps. If you water your plants less frequently, it will also help get rid of the fungus gnats naturally.
4. MOULD AND FUNGUS
Another reason your plant's leaves may become dry is thanks to mould and fungus formation. Aside from overwatering your plants, mould often occurs in conditions of high humidity and lack of sufficient airflow.
WHAT TO DO ABOUT IT
Keep a close watch on the relative humidity of your grow room. Sometimes, a simple fan blowing a mild stream of air over your plants can be all that's needed to prevent mould and fungus. You can also look into a dehumidifier if a fan alone is not sufficient to get the humidity in your environment under control.
5. LIGHT BURN
When the light in your grow room is too close to your plants, this can result in light burn, with discoloured, dry, and crumpled leaves manifesting. Light burn is relatively easy to diagnose since it only affects the uppermost foliage closest to the light source.
Although less frequent, light burn can also happen outdoors. Cannabis loves plenty of light, but too much direct sun in combination with heat stress can lead to dry and dying leaves.
WHAT TO DO ABOUT IT
If you grow indoors and you suspect light burn, move your grow lights further away from your plants. Outdoors, make sure that your plants receive more shade or diffused sunlight in order to be protected from the extreme conditions.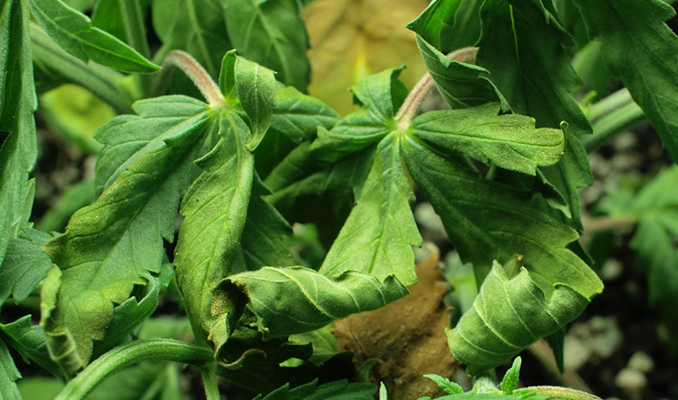 6. HEAT STRESS
Most types of grow lights not only emit light, but also a large amount of heat in the process. You can tell whether the heat of your lights is causing problems when the leaves closest to the lights are affected. Again, this can also happen outdoors under extreme or constant heat.
WHAT TO DO ABOUT IT
Apart from moving your light source further from the plant canopy, check the temp in your grow room as well. Anything above around 30°C is less than optimal. Here too, a fan can do wonders to keep air moving and eliminate hot spots throughout the space. Outside, take the same precautions as with light burn.
7. NUTRIENT BURN (DRY LEAF TIPS)
When the tips of your cannabis plant become yellow, brown, and dry, this is a classic sign that you might be administering excess nutrients. You can spot nutrient burn on new growth near the top of your plant.
WHAT TO DO ABOUT IT
Reduce the amount of nutrients you give to your plants. Young plants and seedlings in particular can be very sensitive to nutrients. Check the label of the products you're using for the recommended doses corresponding to your plant's age. Many times, nutrient manufacturers overstate how much you should feed your plants.
If you think your plants are experiencing nutrient burn, you'll want to flush out the substrate with pure, pH-balanced water before continuing to give your plant nutes. Start by administering half of the recommended dose and see how your plant responds. Remember, more nutes doesn't always mean better weed.
8. NUTRIENT DEFICIENCY AND pH PROBLEMS
A nutrient deficiency means that your plants aren't receiving enough nutrients, leading to growing problems like dry and dying leaves. It's important to know that the reason behind most nutrient deficiencies isn't a lack of nutrients in general.
Very often, the real reason for a deficiency is an incorrect pH level of your watering or nutrient solution. Cannabis has a small pH window where the plant is able to take in nutrients. Anything outside of this window results in "nutrient lockout", a state in which available nutrients cannot be taken in by the roots. In such a case, giving more nutrients without correcting the pH problem will only make things much worse.
WHAT TO DO ABOUT IT
Ensure that your water or nutrient solution has the correct pH level. If you grow in soil, the pH level needs to be between 6.0–7.0pH. If you grow in coco or hydroponically, the ideal pH level should be a a little more acidic, around 5.5–6.5pH. With a pH meter or pH measuring drops. you can measure the pH level of your water and nutrient solution. Adjust the level to the right value by using "pH down" or "pH up" products that you can purchase from any grow store.