7 Steps To Rolling A Perfect Blunt
Published : Jun 7, 2018
Categories : Other subjects
A blunt is a cannabis cigar that's normally made with the wrapper of a cigar or cigarillo. However, not everyone knows how to roll a proper blunt! In our guide, we show you the steps to rolling a perfect, no-nonsense blunt.
For those who don't know, a blunt is a cannabis cigar. It is usually made from a cigar or a cigarillo that has been emptied of its tobacco and then re-rolled with ground cannabis. The name "blunt" comes from Phillies Blunt brand cigars that, at one time, were sold simply as blunts. Since the 1980s, "blunt" has widely come to mean "marijuana cigar". Some companies also sell blunt wraps, which are cigar wraps that come without tobacco, so you can skip an entire step.
Just like rolling a nice joint, rolling a perfect blunt is an art that first needs to be learned. But don't despair! Even if you have never rolled one before, with our guide and some practice, you will be able to craft a proper blunt in no time!
HERE IS WHAT YOU NEED TO ROLL A PERFECT BLUNT
• Cannabis strain of your choice
• Cigar, cigarillo, or blunt wrap
• Grinder (optional, but will greatly help)
• Small sharp knife (optional as well)
• Lighter
HOW TO ROLL A NICE BLUNT IN 7 STEPS
STEP 1: GRIND UP YOUR WEED
Using your grinder, grind up your cannabis. The finer and more uniform you grind your weed, the more even it will burn for a nice and smooth draw. Alternatively, you can use the traditional method and break up your weed with just your hands, which will make your blunt burn slower.
STEP 2: PREP THE BLUNT WRAP
Unless you got an empty blunt wrap without tobacco, you will need to isolate the outer wrapper from a cigar or a cigarillo. For this, you need to first cut open the wrap. Take the sharp knife and carefully slice open the wrap lengthwise. Once it is all the way split down the middle, empty out the tobacco. (Some more-experienced blunt rollers don't even use a knife to cut open the wrap: If you're careful, you can also use your fingers to crack open a cigar).
STEP 3: MOISTEN THE WRAP
The blunt wrap may be a little brittle and could even have some cracks and tears. To make the blunt easier to roll and seal up, you can moisten the wrapper. The best way to do this is to slightly wet your fingers using a bowl of water. You can also use saliva for this, although this is probably not the most hygienic way to do it, especially if you're gonna share it later on.
STEP 4: FILL THE BLUNT WRAPPER WITH YOUR CANNABIS
Now it's time to fill the blunt wrap with your ground weed. If you use a smaller, cigarillo-sized wrapper, one to two grams of cannabis will be all that you need. If your wrap is bigger, such as if you use the wrapper from a cigar or a ready-made blunt wrapper, you may need more cannabis to fill your blunt.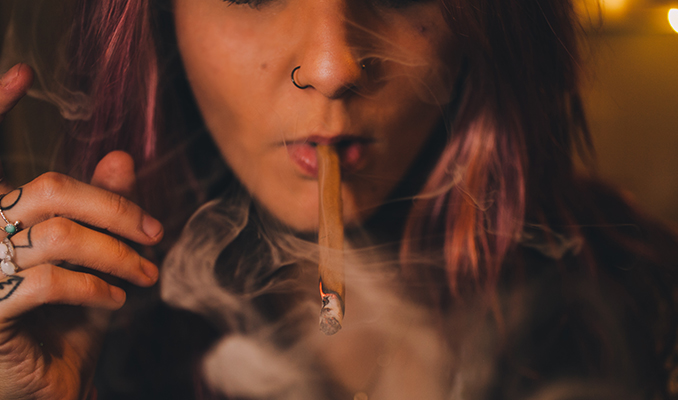 STEP 5: ROLL YOUR BLUNT WRAPPER
To get your blunt nice and even all the way, roll the wrapper between your fingers when you pack your blunt. Be careful and make sure that you don't crack the wrapper, especially if it's still dry. Once your blunt is readily packed and has a nice shape, tuck the wrap under and wet the insides of the exposed edges from end to end. If there are still wrinkles and other uneven spots, use your fingers to smooth them out. Should there be any cracks or holes in your blunt, you should be able to fix them with the adhesive from rolling papers.
STEP 6: DRY THE BLUNT
When you have rolled your blunt into a nice shape, you want to dry it so it stays together. Drying your blunt will also make for a better and more even burn. Take the lighter and run it a few times lengthwise across the blunt, especially near the seams. Make sure you don't run the flame too close to the blunt for too long—you don't want to burn it!
STEP 7: ENJOY YOUR BLUNT
Your blunt is ready! Light up and enjoy!