A Quick and Delicious Cannabis Carrot Cake
Published : Oct 31, 2019
Categories : Cannabis recipes
Cooking with cannabis is a long-established tradition and can give you delicious results. We've tried and tested several recipes and have come up with our favourite cannabis-infused Carrot Cake recipe for you to try.
When it comes to enjoying the cosy autumn season, what's better than a delicious carrot cake?
Like all things, that comforting dessert could be improved with a little dash of something extra. So if you're looking to be more adventurous in the kitchen than just making pot brownies, why not give our delicious cannabis carrot cake a go?
This recipe uses cannabutter. If you don't have some already made, you'll find our full how-to here.
INGREDIENTS
For the cake:
380g all-purpose plain flour
1 tsp baking soda
2 tsp baking powder
6 medium carrots, finely grated or shredded
340g melted cannabutter or cannaoil
4 eggs (room temperature)
400g caster sugar
125g chopped walnuts
1 tsp cinnamon
½ tsp salt
For the icing:
250g cream cheese (room temperature)
115g melted cannabutter
800g icing sugar
Juice and zest of one small orange
HARDWARE
25cm cake pan, lined with baking paper or greased with oil
2 mixing bowls
Large spoon
Measuring jug and scales
Mixer
Sharp knife
Grater
Juicer
Zester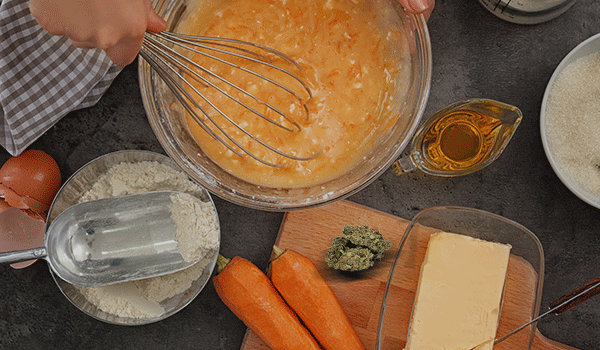 METHOD
Preheat oven to 180°C.
In one bowl, mix the grated carrots and walnuts, then add cinnamon and salt. Set aside.
In the other mixing bowl add your dry ingredients: flour, baking powder, baking soda and sugar. Stir to combine, then make a little well in the middle.
Add the eggs to the well of your dry ingredients and fold through until mixed, then gradually stir in your melted cannabutter or cannaoil.
Now mix using your electric whisk until everything is smooth. You'll notice that the colour lightens, and the texture has visibly changed.
Fold in the carrot and nut mixture, and stir until smooth.
Pour into your baking tin and cook for around 60 minutes. To check if your cake is cooked through, poke it with a toothpick—if it comes out clean, the cake is ready.
Allow the carrot cake to cool in the pan for ten minutes, then turn out to cool completely.
While the cake is cooling, cut the cream cheese into chunks and add into a bowl with the cannabutter or cannaoil.
Sieve in the icing sugar, and using your electric whisk beat on high until the mixture is light and fluffy.
Slowly add the orange juice into your mixture, and beat on high until the mixture is fluffy and smooth.
Once the cake has cooled down, apply the icing and sprinkle with orange zest.
Refrigerate until the icing has set.
Eat, enjoy, and feel the buzz. For variations, you can soak your carrot and walnut mixture in your favourite liqueur to give it a different kind of kick.
For those who aren't fans of oranges, you can substitute them for lemons or limes just as easily for a slightly more tart taste.