The Impact Of Cannabis On Hypertension
Published : Feb 22, 2018
Categories : Cannabis news • Medical cannabis
Hypertension (high blood pressure) by itself doesn't necessarily cause symptoms, but it is the leading cause for heart disease, stroke, and many other severe health issues. Does consuming cannabis have a positive or negative effect on high blood pressure?
Hypertension, also known as high blood pressure, is a medical condition that affects a large population of people. In the US, 1 out of every 3 people has hypertension. Although hypertension itself doesn't always cause symptoms, long-term high blood pressure is a major risk factor for stroke, chronic kidney disease, and heart disease—the most common cause for premature death throughout the world.
THE ENDOCANNABINOID SYSTEM
The endocannabinoid system, which is comprised of cannabinoid receptors found all throughout the human body, plays a role in many other important bodily systems including the cardiovascular system. Cannabis, or to be more exact, the cannabinoids THC and CBD, can influence and regulate the endocannabinoid system in various ways. Research shows that cannabis can influence cardiovascular function as well, thus indicating its implications on hypertension. Seeing that the heart is a crucial organ, cannabis certainly deserves attention regarding its therapeutic potential.
HYPERTENSION & CANNABIS: WHAT EARLY STUDIES SHOW
Years ago, researchers injected THC into rats and found that it significantly decreased blood pressure. Another study replicating this procedure confirmed these results. Yet, these early findings should be taken with a grain of salt. Despite THC having lowered the rats' blood pressure, it was also observed that at first, consumption of cannabis led to an increase in blood pressure and heart rate. Only after two weeks, once the animals developed a tolerance for THC, did it lower their blood pressure and heart rate in a consistent matter. This may suggest that the body requires time to adjust to chemical changes before cannabinoids can work as desired.
CANNABINOIDS HAVE BEEN SHOWN TO LOWER BLOOD PRESSURE IN HUMANS
In an NCBI study published in June 2017, 9 healthy male volunteers were given CBD (a non-psychoactive cannabis constituent) in a randomised, placebo-controlled, double blind, crossover study. During the course of the study, it was found that the administration of CBD reduced the resting blood pressure and blood pressure increase to stress. Hopefully, further research will establish whether CBD (with and without THC) can potentially treat cardiovascular conditions, including hypertension.
THE PARADOX EFFECT OF CANNABIS ON BLOOD PRESSURE AND HEART RATE
It is not altogether surprising that some of the early research notes that cannabis can raise blood pressure before lowering it. Cannabis has a vasodilatory effect, which means it expands the veins and increases blood flow when you're high. The classic bloodshot "stoner eyes" are a good example of this. With the veins expanding, the heart has to beat faster to compensate for the lower blood pressure. The question here is whether this is significant and whether the long-term blood pressure-lowering effect of weed would outweigh these effects. As is often the case, more research is in order. Future studies will also have to take into account different dosages and other methods of consumption, seeing that smoking cannabis, for instance, may not be the best way of administration for patients with cardiovascular issues.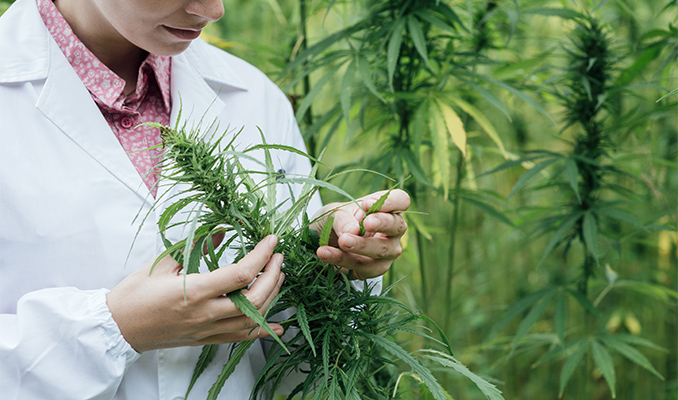 MORE RESEARCH IS NEEDED CONCERNING THE EFFECT OF CANNABIS ON BLOOD PRESSURE
The jury is still out on if and how exactly cannabis can influence hypertension and heart function. Right now, you can find opinions on both sides of the debate. At least those who previously warned about the alleged risks of cannabis consumption on the heart can be at ease: Long-term research conducted by the Coronary Artery Risk Development in Young Adults (CARDIA) at the University of San Francisco analysed data from more than 3,500 adults for 15 years. The study found that there "is no long-term causal link between cannabis consumption and increased risks for heart attacks or stroke".
CANNABIS MAY LOWER BLOOD PRESSURE BUT GETTING HIGH DOESN'T
A study conducted by the Harvard Medical School found less positive results when looking at the effects of cannabis on high-risk populations such as the elderly. In these cases, consumption of cannabis reportedly led to an increased risk for heart attacks. Yet, the study also found that the risk disappeared after two hours. Said differently, cannabis may well have a beneficial effect on the heart, yet getting high from it may be too acutely stressful for those that are prone to heart problems.
WHY NOT ALL OF THESE STUDIES CAN BE TRUSTED
There are several caveats when it comes to the above studies and numerous others on the subject. One is that many cannabis consumers also take other substances, including tobacco and alcohol, which skews results significantly. Moreover, some of these studies, such as the aforementioned one involving only 9 test subjects, can hardly be considered representative. Greater research involving larger sample sizes is required.
Likewise, many older studies in this area have largely disregarded CBD, the active compound in cannabis that doesn't cause a high and proposes a laundry list of potential benefits. Those studies where researchers only focussed on THC show outcomes that may not represent the true potential benefit of the whole cannabis plant. All these factors will need to be considered before we can get a decent picture of how cannabis can affect hypertension and heart function in general. Let us look forward to a future with more compelling research on the subject.