Top 5 Holiday Destinations For Getting High
Published : May 10, 2018
Categories : Cannabis news • Top 10
Around the world, countries are beginning to decriminalise and even legalize cannabis. If this has yet to reach your part of the world, you can still visit cannabis-friendly destinations to partake in the herb. We have narrowed down the top 5 holiday destinations where weed-lovers will have a good time.
This is an exciting time to be following cannabis. Countries throughout the world are relaxing their attitudes surrounding the prohibited herb. Some have decriminalised it, removing criminal penalties for possessing small amounts. Other places have legalized the cultivation and sale of cannabis entirely. Hopefully, this progressive wave will reach your part of the world soon; momentum is certainly building. In the meantime, you can travel to a country where cannabis can be enjoyed as part of your holiday. This can be an awesome way to see a new country and enjoy their unique cannabis culture. We highly recommend these five getaways if you're looking to safely enjoy weed on your holiday.
THE NETHERLANDS
Of course, the Netherlands has to be mentioned first. It has been drawing tourists to its cannabis coffeeshops since the 1970s. These were set up as spaces where police would tolerate the sale and consumption of cannabis. However, it has taken until this year for the Dutch government to begin licensing cannabis cultivation. If this goes ahead, the quality of cannabis should be even better—creating a safer, more transparent marketplace.
Visit Amsterdam now, and you will already see high standards applied to cannabis and hashish in a wide variety of coffeeshops. Each has its own distinct vibe from trendy, club-like atmospheres to laid back lounges where the locals chill. If you hear Dutch spoken in a coffeeshop, it's a good sign that the locals are happy there. You will be happy too, as long as you can show ID if necessary. Make the pilgrimage to any of the Netherlands' beautiful cities. Even if you've never touched weed, there is still so much to see and do in the Netherlands. But when in Rotterdam...
JAMAICA
Another country closely linked to cannabis in the global consciousness is Jamaica. This association owes itself to Bob Marley, the most legendary reggae musician. This genre itself is tied to the Rastafari religion native to Jamaica, which happened to be the faith practiced by Marley in the latter half of his life. In this religion, cannabis is used as a sacrament in ceremonies. This spiritual use of cannabis has been tolerated by the Jamaican government as a result.
Recently, they went even further, with laws decriminalising possession of less than two ounces of cannabis (~57g). Jamaicans can also grow up to five plants at home and access medical cannabis with a prescription. Are you a medical cannabis user? Because if you can present your government's documentation of this when you're in Jamaica, you will also be able to purchase medical cannabis. Otherwise, locals can advise you on where to score some of their famously high-quality weed. There may even be tours of their vast cannabis fields available. This is a stunningly beautiful Caribbean country too, so what are you waiting for?
CAMBODIA
Another tropical country with breathtaking sights and a tolerance towards cannabis is Cambodia. It may not seem like it, however, with cannabis possession still carrying severe penalties under the law. There could even be undercover police officers posing as street dealers to land tourists in trouble. In spite of this, Cambodian people seem pretty laid back about it and sell it openly in major cities. They are certainly growing a lot of it, mostly for export. While it is not as high-quality as that from other countries (and often lacks proper curing), it can be good here.
The buzz cannabis induces would be ideal for exploring the temples, lakes, and forests of Cambodia. Scoring some should be easy enough, although we would advise caution about who to trust. The thing is, market stalls tend to have someone selling cannabis. And they sell it for very, very cheap compared to other countries. You can stock up on lots and get good value for money. What is even more widely tolerated is restaurants providing cannabis-infused recipes. The prefix "happy" is used when cannabis is included. Try the widely available "happy pizza" and see for yourself.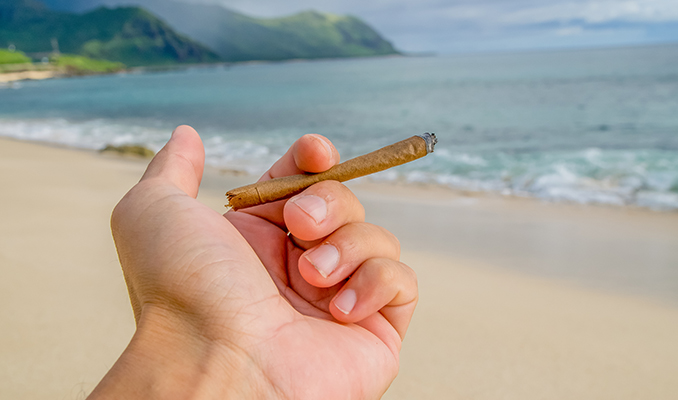 CANADA
Canada has many amazing sites to see across its provinces and territories, which comprise the second-largest country in the world. The Canadian Rockies are particularly spectacular. You can see them from Vancouver, the Canadian city that seems to love weed the most, being the first to tolerate cannabis in certain bars. That is really saying something, because cannabis is popular throughout most of Canada. So popular, in fact, that Liberal Party Prime Minister Justin Trudeau is commencing recreational cannabis industry by autumn 2018.
This is a watershed moment for cannabis internationally. Canada is a large G8 nation, portrayed stereotypically as straight-laced and cautious. They are proceeding with full legalization of cannabis, with personal possession limits of up to 30 grams. Each province is determining its own rules for cultivation and sale. Canada will now have more than simply spectacular sights to see; it will boast dispensaries, lounges, and even marijuana-friendly accommodations. This will be the next big thing in cannabis tourism, so prepare yourselves for a wonderful trip when you get there; a trip in both senses of the word.
THE UNITED STATES
The United States of America shares a very large border with Canada. It is the world's longest border between any two countries. Fears abound over whether Canadian cannabis will be smuggled into the US. This has already been the experience with medical cannabis, even though the US federal government strictly prohibits cannabis. This prohibition has proven a difficult policy to implement, and one with heavy social costs. This border issue may have forced the US government's hand, as now even Donald Trump is supporting marijuana legalization.
It was initially thought that under Attorney General Jeff Sessions, the US states that already legalized marijuana would see a rollback in their laws. But billions of dollars have already been invested in western states legalizing marijuana, such as California, Washington, Oregon, Alaska, Nevada, and Colorado. More states have joined them since, and it is creating legal confusion amidst stringent federal restrictions. Trump must figure this is an easy win and a matter of necessity, as he has announced he will support legislation that allows states to determine their own marijuana laws. This will not be enough for Trump to leave a positive legacy, but it would at least spread regulated cannabis throughout the country. We don't need to tell you how many amazing things you can see in the US. So get researching and get going.