Coffee shops in Amsterdam: The Top 10 Selection
Published : Feb 10, 2016
Categories : Top 10
Travelling to Amsterdam with literally high expectations can be stressful. It doesn't have to be that way! This blog gives you 10 options where to find excellent bud.
The American book author John Green found the best fitting words to describe the amazing city of Amsterdam: "Some tourists think Amsterdam is a city of sin, but in truth it is a city of freedom. And in freedom, most people find sin."

There is the time in life of every passionate European stoner to travel to Amsterdam. In fact, coffee shops of Amsterdam are well-known throughout the world. You will most likely meet people from many different countries while you relax, smoke, and sip on your orange juice or coffee. Being a guest in a beautiful city like this should involve being a good representative of our home country, not trashing the place, and most importantly, to be informed about the best shops that offer high quality for a reasonable price.

If your goal is to get as high as you possibly can, and then stare at some artwork at places like the Rijksmuseum for example, it's best to avoid spending time, smoking medium-quality weed. Here is a small selection of coffee shops that offer friendly service, a cozy atmosphere, and premium quality bud.

10. Green House Namaste

www.greenhouse.org
Waterlooplein 345, 1011 PG Amsterdam

Recent menu: 3 x "Bio Organic" (15-18€/g), 6 x Haze (13-15,50€/g), 6 x Hash (8-18€/g), 6 x "Exclusive Hash" (13,50-60€/g), 3 x "G House Specials" (12-13€/g)

This is a small but cozy shop that creates an intimate atmosphere and good vibes. The quality of their weed and hash is definitely worth a visit but hit the ATM before you go there. Prices are relatively high, too. If the Green House Namaste is not on your direct route, you can still find the same bud in other shops that are ran by Greenhouse Seeds.

9. Siberie

Brouwersgracht 11, 1015 GA Amsterdam

Recent menu: 5 x outdoor (4-7,50€/g), 3 x Sativa (11-13€/g), 2x Hybrid (10-11,50€/g), 1 x Indica (16€/g), 7 x hash (4-12€/g), 2 x Sativa-hash (10-17,50€/g)

This small and comfy coffee shop is located on Brouwersgracht, and sells an excellent product since the 1980's. It's a very good place to be, especially on weekends, when acoustic concerts, art exhibitions, or DJ performances, add some extra delight to your smoking experience. When visiting Siberie, one finds locals, tourists, and anything in between. They all appreciate the cosmopolitan atmosphere while smoking delicious weed and hash.

8. Kadinsky

Rosmarijnsteeg 9, 1012 RP Amsterdam

Recent menu: 13 x Sativa/Indica/Hybrids (9,50-16,50€/g), 8 x Maroccan/Nepalese/Dutch Hash (10-35€/g)

This coffee shop is a frequent choice of locals who live in this part of town. The menu of Kadinsky lists 13 different strains that read quiet impressive. Highly potent varieties like Neville Haze, Diesel Kush, or Blue Cheese, are just a few examples. The interior is modern, contemporary, and the general atmosphere is very social and talkative. Smoking some of their Maui Haze, preferably on a sunny day, hasn't disappointed anyone so far.

7. Blue Bird

Sint Antoniesbreestraat 71, 1011 HB Amsterdam

Recent menu: 2 x Kush (1-1,2g for 12€), 2 x "Super Ice-o-Lators" (0,4-0,5g for 25€), 2 x "Special Wax" (0,5-0,6g for 50€) ALL 12,50€ PACKETS: 4 x Indica-dominant (1-1,5g), 7 x Sativa-dominant (1-1,3g), 5 x Maroccan Hash (1-2,8g), 9 x India/Pakistan/Nepal/Afhanistan Hash (0,7-3,5g), 5 x "Ice-o-Lators" (0,3-1g)

Blue Bird is another shop that has been around since the 80's. It was founded in 1982, and still has an excellent reputation for their hash, weed, and friendly, multi-lingual staff. If you are looking for extreme concentrates like "Special Wax", this is a good place to go to.

6. Katsu

www.katsu.nl 
Eerste van der Helststraat 70, 1072 NZ Amsterdam

Recent menu: "Super Deals" (e.g. 5g Organic Amnesia Haze for 47€), 7 x Haze (4g for 40-45€), 8 x Hybrids (1,3-2,1g for 20€), 7 x Moroccan Hash (0,7-2g for 10€), 5x Asian Hash (1-1,2g for 10€), Dutch Hash (0,2-0,6g for 10€)

Pssst, this one is a secret! Katsu is the prototype of the "original" coffee shop: No bullshit, down to earth, and rather simple. They have a very good menu where most cannabis connoisseurs will find something to fall in love with. Have a chat with locals, read the newspaper, or just relax and look at the beautiful artwork and plants. Katsu is very cozy, and a good place to hang, and smoke. Sarphatipark is close by, maybe plan a pick-nick when you expect sunny weather.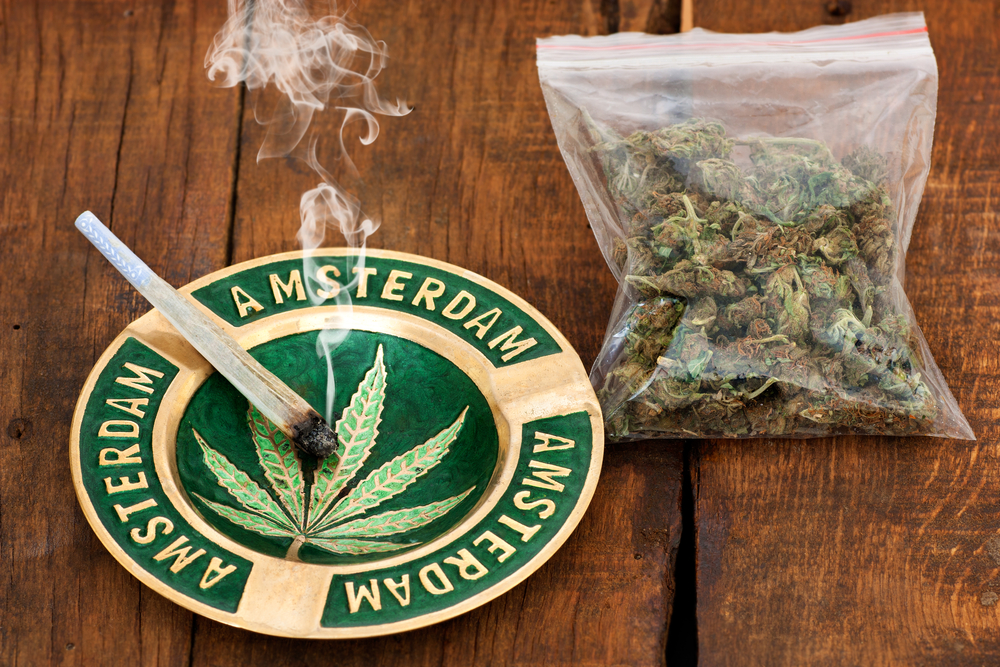 5. Grey Area

www.greyarea.nl
Oude Leliestraat 2, 1015 AW Amsterdam

Recent menu: Up to 18 strains (11-16€/g, 5g for 50-77,50€), 6 x hash (12,50-36€/g)

Size doesn't matter, right? In the case of Grey Area that seems to be the truth. This coffee shop is tiny but awesome! They usually have some of the best weed in town and obviously are willing to give you a fair share of it. Very friendly, helpful, and knowledgeable staff, and a celebrity hotspot: Meeting guys like Snoop Dogg or B-Real (Cypress Hill) would not be the biggest surprise. The selection of up to 18 different strains is nothing but impressive!

4. Barney's Lounge

www.barneys.biz
Reguliersgracht 27, 1017 Amsterdam

Recent menu: 8 x "Import Hash" (12-26€/g), 4 x Ice-o-Lator (32-60€/g), 12 x "Marijuana" (12-18€/g)

Barney's Lounge is situated in a location that is very relaxed. When you check out the link, you will notice that Barney offers his customers different locations to choose from. Barney's Lounge stands out from the crowd and is definitely worth a visit. Barney's Uptown is a very good place to eat, and to smoke, too. Barney's Farm will serve you excellent draft beer, and Barney's Coffeshop, as well as Barney's Lounge, will supply you with almost anything you desire. Well-executed idea, customer orientated, but also not cheap! Paying 12€ for the least expensive strain seems a little bit pricey. This has to be seen in relation to the quality you get at Barney's – simply top notch!

3. The Kashmir Lounge

www.kashmirlounge.com
Jan Pieter Heijestraat 85-87, 1053 GM Amsterdam

Recent menu: 16 x Hash (5-20€/g), 4 x Ice-o-Lator (22-40€/g), 20 x Weed (5-12€/g)

The Kashmir Lounge is badass! They sell up to 20 different strains, reasonably priced, and offer its customers a DJ/cocktail bar that serves alcohol, too. Not that it's very tempting to drink when you can choose from 16 different kinds of hash, and some of the best strains in the world. Maybe your friends will enjoy a few drinks while you hit some dank tree? This is by far the best coffee shop-bar-combo in town! Chill on their sunny roof terrace or smoke some Indica bud while sitting on cozy pillows at the ground. Vondel Park is pretty close if you need a break from smoking!

2. 1e Hulp Coffee Shop

www.1ehulp.com
Marnixstraat 194, 1016 TJ Amsterdam
 
Recent menu: 10 x Sativa (6-15€/g), 16 x Indica (7-15€/g), 8 x Hash (6,50-14€/g), 6 x Ice-o-Lator (16-40€/g)

This coffeshop is the complete opposite of a tourist trap. Most of them won't manage to visit this shop because it's not on their main routes. 1e Hulp means first aid, and this is what you get!  They offer a huge selection of highly potent and reasonably priced varieties of weed and hash. It makes sense to stay a little bit longer, maybe order a Maroccan tea or delicious coffee, and then just let the day pass by. 1e Hulp is ran by two friends who are really focusing on customer satisfaction. Tasteful Arabic influences complete the overall very positive picture.

1. Boerejongens

https://www.boerejongens.com/
Utrechtsestraat 21, 1017 VH Amsterdam

Recent menu: 19 x "Marijuana" (6,50-15€/g), 10 x Hash (6,50-20€/g), 4 x Isolator (35-40€/g)


Boerejongens' style and superior cannabis products make a trip to one of our three coffeeshop locations an experience that you won't soon forget. At Boerejongens Center, you will step into a 21st century smoking parlour, complete with a cosy lounge to make you feel like a VIP when you smoke up with us. Our sharply dressed and friendly staff, lavish decor, marble floors, and gold fixtures exude a classical charm lost somewhere in time. Naturally, we serve only the finest cannabis with an exclusive, gourmet range of Amsterdam Genetics hash blocks boasting 36-42% THC and virtually no CBD.
Boerejongens West & Boerejongens BIJ, our sister outlets to the west of the city, are contemporary cannabis apothecaries in Boerejongens style. Here, our helpful staff wearing white pharmacy attire will provide our signature sommelier-quality service. Plus, you can beat the lines outside our uber-popular Center coffeeshop. Make sure to sample our sell-out White Choco Block connoisseur-grade hashish and our all-new interstellar line of "Spacetry" edibles.