Top 5 Cannabis Strains For Daytime Smoking
Published : Sep 18, 2019
Categories : Strain information
Energy, creativity, focus; those are the three things we look for in a daytime smoke. While the relaxing physical effects of cannabis are great, they aren't ideal in situations where you need to stay active and engaged.
It's time to throw the old stoner stereotypes out the window. When used correctly, cannabis can help inspire creativity, motivation, and production. Finding that balance, however, comes down to finding the right dose and—most importantly—the right strain. In this article, we'll shine a light on 5 strains that are perfect for daytime use.
FINDING THE PERFECT DAYTIME SMOKE
Generally speaking, cannabis users find sativa strains to be more uplifting and energising. Hence, if you're looking for a daytime strain, keep an eye out for pure sativas or sativa-dominant hybrids. However, remember that the terms "sativa" and "indica" tell us more about a plant's physical traits than its effects. What really influences a particular strain's effect is its chemical profile; specifically, its concentration of cannabinoids/terpenes. So keep that in mind when picking a strain to enjoy during the day.
At Zambeza, our in-house breeders pride themselves on producing strains for every situation. Hence, we've compiled this brief list of our 5 top daytime strains. Happy smoking!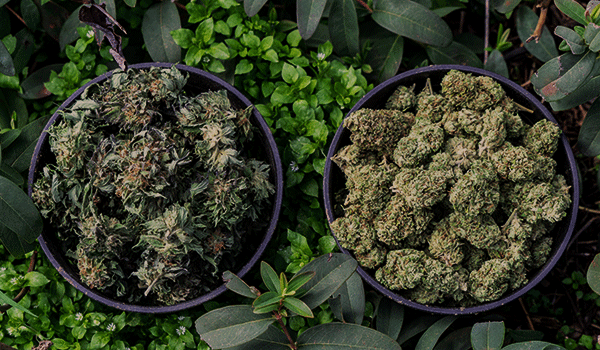 CHOCO CANDY
Choco Candy is a sativa-dominant hybrid with a big chocolate aroma. A cross between Chocolate Haze and OG Chocolate Thai, Choco Candy boasts a THC level of up to 21% and delivers a strong, uplifting euphoria—great for daytime smoking.
Choco Candy's sativa genetics definitely shine through in the grow room. This plant can easily reach a height of 150cm, even indoors. Outdoors, it can grow as tall as 200cm and produce a harvest of up to 500g/plant. Unlike regular sativas, however, Choco Candy has a flowering time of roughly 65 days, making it ideal for indoor growers looking to churn out multiple harvests per season.
Whether you choose to smoke or vape, Choco Candy boasts rich chocolate aromas and flavours. Thanks to its potent THC concentration and Haze genetics, this strain produces a strong, uplifting euphoria that's perfect for when you need to stay focussed and motivated. Try it mid-afternoon to help carry you through to the end of the day, at a social gathering, or first thing on a Saturday morning to kick the day off right.
LEMON KUSH
Don't let the name of this strain fool you; while it is a Kush, our Lemon Kush won't leave you glued to the couch digging your way to the bottom of a bag of Cheetos. Despite its indica-dominant genetics, Lemon Kush boasts a nice, balanced stone that encourages productivity.
Our expert breeders created this variety using a combination of Chemdawg, Lemon Thai, and original Pakistani Kush genetics. The result is a versatile and hardy strain that's extremely well-suited for indoor growing, where it produces a harvest of 450–500g/m². Outdoors, Lemon Kush grows notably bigger, where a single specimen is capable of producing up to 550g.
What sets Zambeza's Lemon Kush apart from other Kush varieties is its unique mix of sativa and indica genetics. Thanks to the Lemon Thai and Chemdawg present, Lemon Kush won't just relax you, but will help you remain focussed and alert as well. Like we said earlier, this is no ordinary Kush.
SKUNK
Our Skunk is one of the most reliable strains on the market. Bred using a combination of genetics from Mexico, Colombia, and Afghanistan, Zambeza Skunk is super stable and adaptable to a wide variety of growing conditions. Whether you're working in a small indoor grow room or a large outdoor garden, you can rest assured this strain will reward you with a top-shelf harvest.
Indoors, our Skunk tends to reach a height of 80–110cm. Outdoors, this plant can reach up to 200cm, although its height can easily be controlled using pruning or low stress training techniques. Your yield will vary based on the size of your plants and your skill as a grower, but indoors you can expect a reading of up to 550–600g/m² on the scale. From a single outdoor plant grown under good conditions, you should be able to harvest around 550–650g.
True to its name, our Skunk boasts that iconic spicy, sweet, and floral aroma that characterises this variety. With 17% THC, it delivers a nice, balanced high that blends physical relaxation with an uplifting cerebral boost. Select this strain for a weekend wake and bake, in the mid-afternoon to help you stay focussed at the office, or when painting, making music, or engaging in other creative tasks.
SUPER SILVER HAZE
Super Silver Haze is a Dutch classic. This strain has completely taken over the coffeeshop scene, and it's not hard to see why: It produces a very strong and iconic cerebral euphoria. If you're looking for a strain to use while working or creating, this one is definitely for you.
Super Silver Haze is a sativa-dominant hybrid that combines Haze, Skunk, and Northern Lights genetics. This strain is extremely well suited for indoor growing, where it can yield up to 700g/m². Outdoors, SSH grows extremely large, reaching a height of well over 200cm and yielding 550–650g/plant.
The first thing you'll notice is that these buds are covered in a thick layer of trichomes. After just one hit from your vape or joint, you can expect to enjoy a strong cerebral rush. If you're a creative, you may find this particularly beneficial when seeking a boost of inspiration. Alternatively, Super Silver Haze is great for social situations where you want to stay active, happy, and uplifted.
JACK THE RIPPER AUTOFLOWERING
Jack the Ripper Autoflowering is one of our all-star autoflowers. Being a cross between Jack Herer and ruderalis, this little shrub produces potent sativa buds that'll spike your motivation and energy in no time.
Typical of an autoflower, our Jack the Ripper Autoflowering develops into small plants that are perfect for indoor growing. While it's not a huge yielder, this strain is perfect for growers seeking an automatic sativa that's easy to grow. With a total grow cycle of just 60–70 days, this strain is also great for those looking to pump out multiple harvests over the year.
Like its parent Jack Herer, Jack the Ripper Autoflowering produces that iconic sativa high people look for in a daytime strain. With roughly 17% THC, this strain comes on nice and easy, meaning you won't suddenly be hit with an intense euphoria that keeps you from concentrating. Instead, feel free to toke on Jack the Ripper Autoflowering while creating or working from home, at a party, or before taking care of household chores.