What Are Cannabis Fan Leaves?
Published : Oct 15, 2020
Keep reading to find out what fan leaves are, and the crucial role they play in growing healthy, resilient cannabis plants. Even better, we have put together five ways you can use fan leaves once plants have been harvested!
CANNABIS PLANT ANATOMY: THE BASICS
Fan leaves are an essential component of the cannabis plant's anatomy, but they aren't the only. To help understand their function, we need to know where on the cannabis plant they exist, and what other structures exist alongside them.
Starting from the bottom of the cannabis plant, we have the roots, followed by the main stem, fan leaves, branches, and sugar leaves. Toward the top of the cannabis plant, among the smaller sugar leaves, will be your trichome loaded flowers. Usually, it is the flowers or colas we'd be most interested in, but that doesn't mean the remaining parts of the cannabis plant are useless. Head back down to the bottom, and we find the much larger fan leaves, an often forgotten part of the cannabis plant.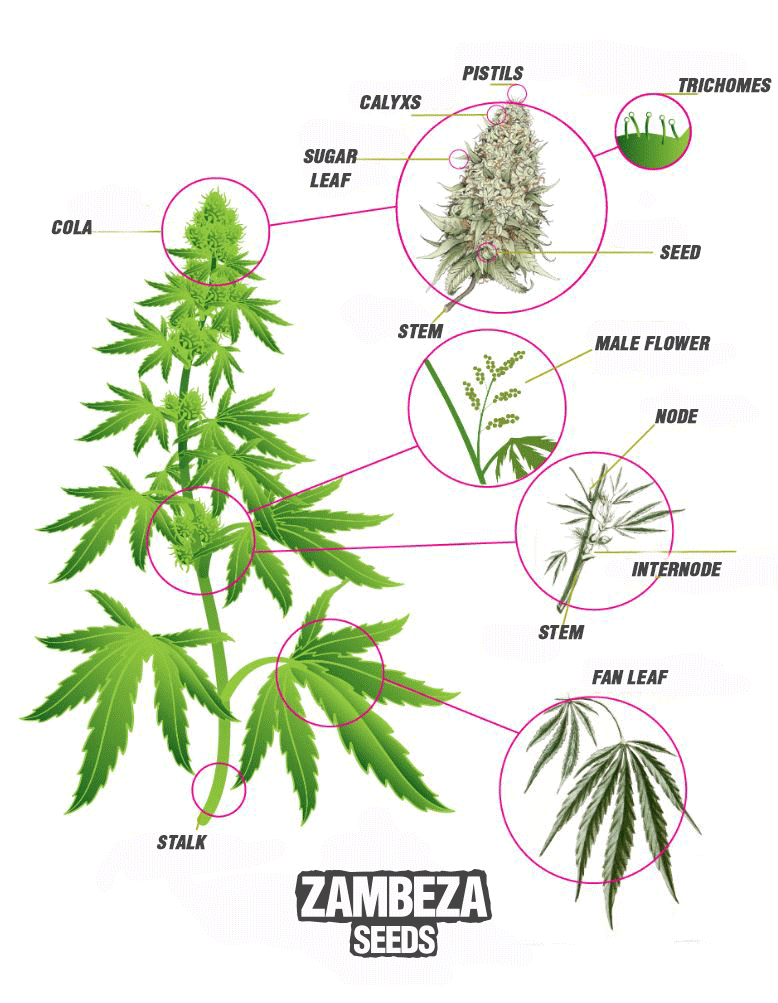 WHAT ARE CANNABIS FAN LEAVES?
Don't be fooled into thinking fan leaves are just for show. Their large, multi-fingered shape is an essential tool for collecting as much sunlight as possible. The primary purpose of fan leaves is to support photosynthesis. The leaves themselves are also packed with phytonutrients and, to a much lesser degree than sugar leaves and buds, cannabinoids.
Fan leaves are also incredibly useful for understanding your plant's overall health. Given that the majority of fan leaves are located near the bottom of the plant, any issues with nutrients or water will show on fan leaves first. After all, they are the closest to the root system.
Carefully observing fan leaves throughout the vegetative stage can give you an early indication of problems and deficiencies. Powdery mildew, infestations, nutrient burn, and a lack of water—all of these aliments will show in the fan leaves first, so take note!
Finally, it's worth pointing out that it's beneficial to retain fan leaves during the vegetative growth phase to encourage healthy development. However, many growers will trim excess leaves during the flowering stage to improve airflow and strengthen bud development.
5 ALTERNATIVE USES FOR CANNABIS FAN LEAVES
Whether you have a few fan leaves left over after pruning or a huge selection of foliage lying around, below are five ways you can put them to good use.
1. CREATE NATURAL ROLLING PAPERS
This may take some practice, but many cannabis connoisseurs swear by the authentic experience of rolling fan leaf joints. The key is to dry them flat so they're easier to roll. You could also try creating Thai sticks using hemp string to keep your bundle of fan leaves, flower, and hash oil together. Either way, there's plenty of ways you can utilise fan leaves in your daily smoking rituals. Plus, imagine the look on people's faces when you arrive with a giant fan leaf joint in hand—priceless.
2. BREW CANNABIS-INFUSED TEA
A symbol of sophistication, tea has been consumed around the globe for over 5,000 years. With the help of fan leaves, you can bring the same level of class and wisdom to your favourite herb. Although the resin, and therefore the cannabinoid content, is much lower in fan leaves than other parts of the cannabis plant, brewing the leaves will help extract every last drop.
For an organic experience, leave dried fan leaves to steep in hot water with a teaspoon of coconut oil, creating a homemade herbal tea. Don't expect intense waves of euphoria, but there should be enough cannabinoid content to provide a very mild, relaxing buzz.
3. MAKE RAW CANNABIS JUICE
Juicing raw cannabis leaves has become increasingly popular in recent years. Not only is there nutritional value in the leaves, stalks, and seeds, but fresh juice contains a diverse spectrum of cannabinoids/cannabinoid acids. However, cannabinoid acids in raw leaves (like THCA and CBDA) haven't been activated by heat, and therefore interact with the body differently. You won't get high, but there is research to suggest that raw cannabinoids may have several health benefits of their own. While studies are ongoing, juicing is a simple, effective, and tasty way of putting unwanted plants and leaves to good use.
4. COMBINE FAN LEAVES WITH EDIBLES
Remember watching cooking shows as a kid and seeing the chef use basil leaves as a garnish? Bring a touch of stoner innovation to your culinary skills by using fan leaves instead. You can use the entire leaf for dramatic impact, or flatten, dry, and crush them before sprinkling on a range of dishes.
The flavour can be pretty overpowering, so we advise using your fan leaf garnish sparingly. And don't worry about intoxicating your guests, THC levels will be minuscule at best.
5. CREATE FAN LEAF TINCTURE OR HASH
Think of tinctures as a more advanced, and more potent, cannabis-infused tea. Rather than steeping the fan leaves in water with a touch of fat, we use exclusively alcohol or coconut oil. These bind with cannabinoids more effectively, ensuring you capture all of the available THC, CBD, etc. Either heat the leaves gently in coconut oil or let them steep in vodka for several weeks. Once you're happy with the mixture, sieve out the remaining plant matter and store in a glass dropper bottle.