Top 10 Strains For Fighting Depression
Published : Feb 1, 2019
Categories : Strain information
Depression can make life so much more difficult. Cannabis can make life seem more comfortable, engaging, even wondrous. Would it be appropriate to treat depression with cannabis? Here is our take, along with 10 of our best strains we would recommend.
Depression is a serious medical condition that has been misunderstood for a long time. It even gets conflated with feelings of sadness when people casually claim they're "depressed". Depression is a more pervasive sense of despair, sometimes lasting months or years. Intense feelings of hopelessness or helplessness can turn inward, eroding a person's self-esteem. People with depression can start losing interest in things that previously brought them joy. They can ruminate on guilt, anxiety, and even suicidal thoughts. If it clouds your motivation enough, depression can disrupt your ability to work and live and communicate.
It is important to spot symptoms of depression, especially before dangerous thoughts of self-harm occur. The causes of depression may be partly genetic or neurochemical; it may be linked to trauma or a spiral of negative behavioural patterns. Easy fixes are offered from all sides. Big Pharma encourages doctors to prescribe more antidepressants, while new age types at the other end of the spectrum claim that meditation and a vegan lifestyle are the answer to beating depression. Ultimately, there isn't a quick fix for this multifaceted condition. If you think you have the symptoms, talk to a therapist and take care of yourself.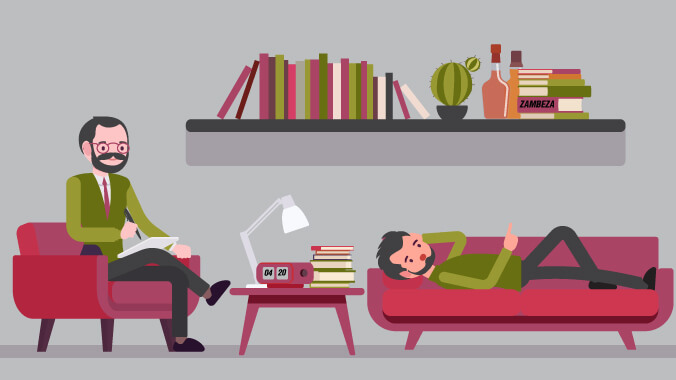 CANNABIS AND DEPRESSION
Cannabis strains are often prized for their ability to help one mellow out. In some cases, they can even aid compassionate introspection, where your brain is able to debunk and banish negative thoughts more quickly. Cannabis will not cure depression by itself. But for some users, it can have a positive impact in treating the symptoms. For others, excessive use could make the condition worse, especially if you face a sudden shortage in supply.
If cannabis is a medically responsible option for you, one thing you can do to guarantee a consistent supply is grow your own plants. We have many strains in our catalogue with strong genetics optimised for the best yields. The following 10 strains are anecdotally claimed to provide relief for some depression sufferers. However, don't take any of this as binding legal or medical advice. In no specific order, here are the top 10 strains for soothing symptoms of depression.
JACK THE RIPPER AUTOFLOWERING
Autoflowering strains are lower-maintenance than their photoperiod kin, thus making the cultivation process more manageable for those who feel listless and low-energy. Of all our autoflowering varieties, the one that is perhaps most suited to easing mood is Jack The Ripper Autoflowering. The provocative name was chosen to honour the beloved parent plant Jack Herer. Jack Herer has been bred here with ruderalis genetics for shorter stature and shorter flowering time. It also means that the plant has resilient genetics that can withstand the uncertain conditions of growing in the wild. This should lead to a strong plant that makes you feel even stronger. The musky taste accompanies uplifting feelings of happiness from a potent THC content of 17%.
PINEAPPLE EXPRESS
Placing pineapple on pizza is blasphemy to the good name of pizza. It is irrelevant how bad your depression is. That being said, the sweet tropical flavour of pineapple has been considered a nice combination with cannabis. Our Pineapple Express has an intense smell and fruity flavour with faint hints of mango and apple. It should leave you feeling quite satisfied. It certainly delivers an energetic buzz that awakens creative imagination. If you are in a low place and need to get back to feeling motivated, this can help. With a THC content measuring around 19%, this weed packs potency. The feelings of happiness, although temporary, may be what you need for a boost and some focus.
NORTHERN LIGHTS XL
Northern Lights is a popular classic that has delighted cannabis users for decades. In the 1970s, an XL variety emerged whose origins seem lost to time. Zambeza was undeterred, experimenting with our own breeding to recreate the lost classic. Now, we have hit upon our very own Northern Lights XL hybrid drawn from three sources: Afghan, Skunk, and ICE. Afghan brings the soothing indica qualities and piney mountain smell. Skunk brings the sativa rush and diesel smell. ICE is in fact a hybrid of the two. The genetics here boost an already relaxing plant to have strong stress-relief properties. Plants grow over a metre tall and flower for 7–8 weeks. See what this strain does to your mind, aside from blow it.
AMNESIA HAZE XL
Iconic. Amnesia Haze has been made popular throughout the world by visitors to Amsterdam. Their coffeeshops stock Amnesia Haze on an almost constant basis. Maybe it's the invigorating buzz that relieves pain; maybe the energetic sensations it brings help people through feelings of fatigue. Fatigue is a common symptom of depression, so it may be worth trying Amnesia Haze if you're in a depressed mood. The good news is, our Amnesia Haze XL variety will deliver plentiful harvests with a THC content of around 21%. It flowers over 65 days, give or take. This means you'll be seeing extra-large harvests relatively soon. Outdoors, a single plant could yield between 600–700g. The right indoor growing setup can deliver up to 600g/m² in optimal conditions.
CRAZY COOKIES
Having the word "Cookies" in the name of your strain is a very good sign. If you're struggling with depression, the soothing effects of Cookies genetics are unparalleled. Waves of relaxation rush through the body to soothe muscles. This can relieve tension before settling into bed. As the name suggests, warm, sugary flavours of cookie dough make such strains a tasty treat. Imagine breeding such genetics with the reliable OG Kush, endowing new hybrids with its delicious pine flavour and reliable indica genetics. That's exactly what we imagined, and the result of our breeding is Crazy Cookies. Grow it yourself, with a flowering time of under two months. You'll be quite pleased with the results, and the effects of a 24% THC content will be something to write home about.
LEMON KUSH
A lemon citrus flavour is the hallmark of many sensuously satisfying cannabis strains. Our Lemon Kush throws some hints of spice into the mix, all for a sensational Kush hybrid. Kush landraces from the mountains of Pakistan are bred here with the famously potent Chemdawg and a Lemon Thai landrace. Thai genetics deliver a mouth-watering lemon flavour and giddy sativa effects that chase the blues away. With the indica properties thrown in, Lemon Kush will induce a smooth body stone and warm feelings of happiness. The THC content of 18% is delivered after a flowering time of around 55 days. Impressive for a strain so applicable to coping with depression's difficult symptoms.
BLUE BRILLIANT
Putting the word "brilliant" in a strain name is tempting fate. Surely a strain with such a boastful name couldn't be all it's cracked up to be. On this occasion, Blue Brilliant has been bred with care and aptly named. Blueberry is the indica parent, with its deliciously fruity berry flavour shining through at every toke. It has been bred with Super Silver Haze, a famously uplifting sativa known for its aphrodisiac qualities. Super Silver Haze also brings powerful face-tingling sativa effects. The resulting hybrid Blue Brilliant has a THC content of around 20%. It will typically flower for 60–65 days. You really are getting the best of both worlds with this hybrid, so see for yourself what brilliance lies beneath.
WHITE WIDOW HAZE
White Widow is another classic of Amsterdam's coffeeshops. It's often sold pre-rolled and is known for its very powerful high. Tingly sensations throughout the body make many a stoner giddy with this sativa. Zambeza has bred this classic cultivar with a Haze plant. This means if sativa is your thing, this is about as heavy a hybrid as you can get. If you have heavy feelings, this should lift your spirits to the moon. It can be useful for rediscovering creative inspiration or having a more playful time. The burst of energy from this sweet-tasting strain comes from a THC content of around 20%. Expect it to flower relatively quickly, across 65 days or so.
NYC DIESEL
NYC Diesel has been celebrated and awarded prizes at many Cannabis Cups. Zambeza had to get in on the action with our own version. Ours will flower over approximately 9 weeks or so, delivering a THC content recorded at 19%. Zambeza combined disparate strains for a surprisingly effective combination in NYC Diesel. Genetics from Northern Lights, Shiva, Hawaiian, and Diesel all play their part here. The pungent smell of diesel has an intriguingly sweet side to it. Hints of grapefruit and lime citrus can be detected on the palate. It calms the mind to a more relaxed state while providing energy needed to get through the day. This could be the strain to help you realise things aren't so bad after all.
GREEN AK XL
Another autoflowering strain that holds a prized place in our catalogue is the delectable Green AK XL. Familiar with the sweet, fruity flavours you get from great indicas? Green AK XL offers a beautiful execution of that taste. What's more, Green AK XL brings very relaxing sensations that should help you take a much-needed step back. It really is okay to take time for yourself, and Green AK XL should put you in a more serene state of mind. The indica-dominant hybrid will also bring about uplifting feelings of happiness. From seed to harvest, it takes about 60–70 days. So in a short space of time, the ruderalis genetics will deliver a manageable plant with a strong buzz from its buds.