Top 5 Easy To Grow Photoperiod Strains
Published : Jun 7, 2017
Categories : Strain information • Top 10
Newbie cannabis growers and conoisseurs of all levels get ready to smile. We've got the 5 easiest to grow marijuana varieties by Zambeza Seeds. It's time to reinvigorate your grow op and bring the fun back into ganja farming. Harvest bigger buds with more potent effects with these amazing cannabis genetics.
SIMPLE SINSEMILLA
Cultivating high-grade photoperiod cannabis need not be a time-consuming and demanding process. Selecting the right genetics is the most important factor of your whole grow op. Zambeza Seeds have created 5 top-shelf marijuana varieties that are a pleasure to crop.

Regardless of your grow style or level of cultivation experience, these seeds can make magic happen in the grow space. Allow us to introduce you to the joys and relative simplicity of cultivating amazing Sinsemilla.
SKUNK

Skunk is perhaps the most successful hybrid in cannabis history. Naturally, our breeders had to develop an amazing specimen of our own. Through the decades the hunger of stoners for classic Skunk genetics has only intensified as the contemporary seed market is drenched in Kush hybrids. The Skunk still stands alone. Setting the standard for dank weed.
Genetic stability and a proven track record go a long way in the grow op. Skunk is a vintage blend of sativa and indica genetics that express phenomenal hybrid vigour. Plants are undemanding, uniform, and very rewarding to cultivate indoors and outdoors.
Flowering is just 8 weeks, and as bloom progresses, the signature Skunk fragrance will be in the air. The high is a wonderful combination of cerebral euphoria and mellow body stoned. Yields are generous and with a little TLC, a huge harvest is possible even for novice growers.
WHITE WIDOW XL

White Widow XL is perhaps the most productive Widow variety on the market right now. Our breeders were determined to boost the production and vigour of the original Coffeeshop legend. The fruits of their labours are the White Widow XL beans. This strain hands down outperform Widow rivals in the grow op.
All the devastating potency and the extra frosty layer of resin have been retained. Plus the flower to leaf ratio has been improved to boost yields. Plants are quite stocky indoors usually 60-90cm tall. Although, outdoors they can grow significantly larger reaching up to 2m. In 60 days or less of 12/12, the White Widow XL can deliver impressive yields of surprisingly sativa influenced weed.
POWER PLANT XL

Power Plant XL is a great choice for beginner growers with a penchant for uplifting soaring sativa highs. This strain is an upgraded version of the vintage South African Power Plant blended with Dutch genetics. The result is a very manageable sativa that rarely exceeds 1m in height indoors and won't stretch as much as other sativas outdoors, usually peaking at 2m tall.
In just 8 weeks of bloom, the Power Plant XL will be ripe and bare a bountiful yield of buds. Earthy piney aromas will fill the grow space and a complex blend of sweet and sour tastes makes this enchanting head stash. If you're looking for some rare old school flavour with an uplifting head buzz, Power Plant XL is the cannabis for you.
CRITICAL XXL

Critical XXL puts the heavy into heavy indica. The only thing bigger and greener is the Loch Ness Monster, probably. Selective breeding of Skunk #1 and heirloom Afghani gave rise to the ultra vigorous Critical XXL. Flowering is fast and furious as this beast needs just 50 days to finish. Yields are tremendous and it's highly likely you will harvest a personal best with these cannabis seeds.
Critical XXL is best cropped with LST and/or ScrOG as colas and side branches can become so laden with buds that they require support. Nutrients can be administered in high doses so you can really pump up those chunky buds.
Not only is this strain a heavyweight producer but she packs a seriously heavy punch too. The initial head buzz is swiftly followed by a couchlocking stoned effect. 19% THC and gargantuan production - what are you waiting for?
POWER KUSH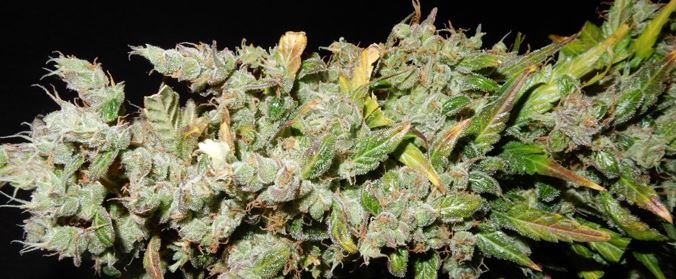 We couldn't leave you without a Kush to consider cropping, so we've saved the Power Kush for last. This awesome hybrid is a cross of the premier US strain OG Kush and the European favourite Critical. Of course, the objective was to endow a hybrid with the very best attributes from both legendary strains. The good news is that this Zambeza Breeding project was a huge success and the Power Kush is the proof.
Power Kush is low profile and low maintenance and at the same time incredibly potent and massively productive. This really is the Kush variety that keeps on giving. Crop her indoors or outdoors with little fuss and great success.
Newbie's or seasoned growers looking for a pedigree hybrid will be delighted by the Power Kush. Effects are in a word "Couchlocking" as is to be expected from dank 20%THC Kush nuggs. Your grow op will definitely be enhanced with these seeds.
As you can see, for a grower looking for a tranditional photoperiod-based grow, there at plenty of versatile options. Each an everyone one of the above will do any grower proud!