Why The Dark Cycle Is Important For Cannabis
Published : Jul 14, 2018
Categories : Other subjects
Whether you grow cannabis indoors or outdoors, you must understand the importance of the dark cycle. The truth is, darkness plays a role at every stage of the cannabis life cycle. In this blog, we break down why the dark cycle is essential to successful cannabis cultivation.
DARKNESS MATTERS TO MARIJUANA
No matter what cannabis strain you choose to cultivate, both light and dark cycles are required. Photoperiod cannabis varieties are short-day/long-night plants. Autoflowering cannabis may not be as dependent on a dark cycle to the same degree; nonetheless, autos still benefit from periods of darkness. At the end of the day, the light and dark cycles are equally important. By the end of this text, you'll come to the same conclusion.
WHY GERMINATE CANNABIS SEEDS IN THE DARK?
If you are growing from seed, before the grow show can commence, you need to successfully germinate those magic beans. Cannabis seeds need darkness to germinate. Ideally, you should germinate your seeds indoors in a dark cupboard or press for 2–3 days. We recommend the paper towel method because it's simple and it works.
It's complete darkness that triggers the shell to split and the taproot to emerge. As soon as you can see that first tiny white taproot, it's time to carefully place your germinated seed into the medium in the light. In nature, cannabis seeds fall from flowers in autumn and get buried in the soil. Those that burst forth from the topsoil the following spring were not buried too deeply and not exposed to light.
WHY CANNABIS ROOTS NEED DARKNESS
Ever wonder why pots and containers are not transparent? Well, cannabis roots need oxygen and darkness. When roots are exposed to light, it's an invitation for trouble. All kinds of nasty fungi and bacteria will colonise the root zone, and before you know it, the roots are rotting. This is easily avoided by using light-proof pots and containers. Healthy roots in the dark are white. Diseased roots turn green or brown as light facilitates the hostile takeover of the root zone.
WHAT HAPPENS TO CANNABIS PLANTS AT NIGHT?
Cannabis plants have two key light spectrum receptors: phytochrome red and phytochrome far-red. When the sun is shining or the grow lamps are switched on, the levels are balanced. However, during the dark cycle, far-red receptors change into red. With a long enough dark period, the balance eventually tips to mostly phytochrome red. Then, photoperiod cannabis is triggered to commence flowering. They are biologically programmed to do so.
This is why outdoors during long spring days, photoperiod strains are in vegetative growth and won't flower until late summer/autumn when the nights get longer. Most photoperiod cannabis grown outdoors will transition to bloom gradually—usually when the sunlight is reduced to 13–14 hours per day.
Indoor growers run an 18-6, 20-4, or 24-0 light cycle to prevent too much phytochrome red from building up and inducing bloom too soon. In fact, photoperiod cannabis can remain in the vegetative stage indefinitely, if long days can be maintained that is.
On the flip side, many growers will leave plants in complete darkness for a day or two before switching to 12-12 to accelerate the transition to bloom. This is achieved via the phytochrome red buildup during the prolonged period of darkness.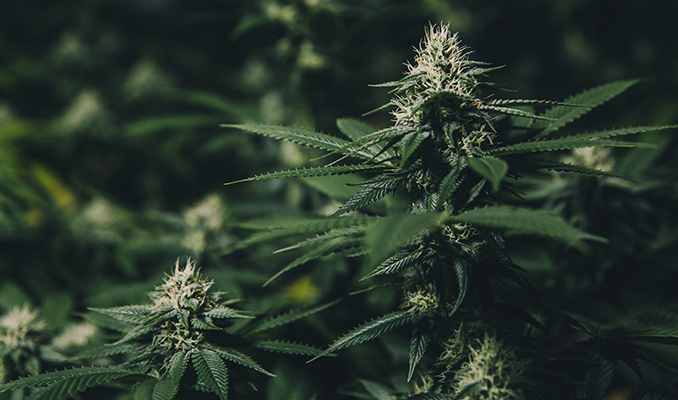 DO CLONES NEED A DARK CYCLE?
Clones really don't benefit from continuous illumination. Most growers find that low-intensity cool white CFLs running on an 18-6 light schedule is optimal. Nobody really understands the science completely, but anecdotal evidence suggests that more cuttings will take root with a dark cycle than without. A 24-0 schedule is not necessarily a bad idea, but it does make it more challenging to maintain the high humidity that cuttings prefer.
WHAT ABOUT A DARK CYCLE FOR AUTOS?
This is the subject of ongoing debate. Even in Siberia, no wild ruderalis is growing in full sunlight 24 hours a day. Cloud cover counts as darkness, and while it might be brief and irregular, it's still a dark cycle. Our own research and experimentation suggest 20-4 to be the best light-dark cycle for autoflowering cannabis.
WHY BUDS MUST BE DRIED AND STORED IN A DARK PLACE
When it comes time to harvest, the importance of a dark cycle for your buds doesn't cease. Rather, it becomes even more critical to the preservation of your stash. Sunlight or really any kind of light exposure will degrade the cannabinoids in your weed.
Hang those colas up wrapped in newspaper, or chop the nugs from the stems and dry them in a box. Cured buds in glass jars must also be kept in a cool, dark place to prolong shelf-life.
THE CONSEQUENCES OF INTERRUPTIONS TO THE DARK CYCLE
You can't afford interruptions to the dark cycle. Light leaking into the grow show during the dark cycle will stress your plants without a doubt. If you must observe your cannabis at night or when the lights go off, green light is the only option. Even autos won't perform as well if the dark cycle is disturbed. Sure, they can cope better, but they are not invincible.
External light sources hitting cannabis plants during the dark cycle could prevent them from blooming, and in the worst cases, shock them into turning hermie. Moonlight is not a threat, but that's really the only exception. Even using your mobile phone as a torch could be enough to destroy the dark cycle and do damage. Keep the dark cycle completely dark.