Cannabis For Sleep Apnea
Published : Jun 13, 2019
Categories : Medical cannabis
Sleep apnea is a common, but often undiagnosed, medical condition that can lead to chronic fatigue, mental fog, and heart disease. Traditional treatment options help a lot, but why stop there? Learn how medical marijuana could improve your quality of sleep even more.
Have you heard the one about the man who snored so loud his wife didn't get a wink of sleep?
Probably more times than you can count—but sleep apnea is no laughing matter. It can, very literally, kill you without a shred of help from an angry spouse.
If you think you or someone you love has sleep apnea, see your doctor as soon as you can, while you explore all the ways that medical marijuana may be able to help you get a better night's sleep in the meantime.
WHAT IS SLEEP APNEA AND DO I REALLY NEED TO WORRY ABOUT IT?
Sleep apnea is a serious medical condition that causes the patient to stop breathing numerous times while they sleep. They may snore, they may wake up gasping for breath, or there may be obvious signs that their breathing has stopped. These episodes starve the brain of oxygen and disrupt both REM and non-REM sleep cycles. No matter how many hours they spend in bed, they wake without feeling refreshed and experience significant fatigue during the day.
In addition to chronic fatigue, those who suffer from sleep apnea may experience depression and anxiety, have trouble concentration and remembering things, and develop more serious health issues. Untreated sleep apnea puts stress on your entire body, leading to high blood pressure, heart disease, and hormone deficiencies. In extreme cases, it could even lead to stroke or heart attack during sleep.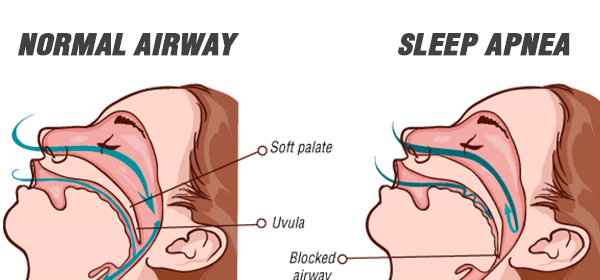 HOW CAN I FIND OUT IF I HAVE SLEEP APNEA?
Researchers estimate that up to 22 million people have sleep apnea in the US alone, and that up to 80% of patients go undiagnosed. It's hard to detect sleep apnea from a doctor's visit alone. If this condition is suspected, the doctor will ask the patient and their sleeping partner about symptoms before ordering a sleep study. Simple, at-home tests are used to either confirm or rule-out apnea. In some cases, an overnight study in a sleep lab might be ordered.
Anyone, even children, can have sleep apnea, but it's most common in overweight men who're over the age of 40. Drinking alcohol and smoking can make it worse. If you are experiencing the following symptoms, ask your doctor if you should be tested:
- Frequent snoring
- Waking up trying to catch your breath
- Constant fatigue
- Morning headaches
- Falling asleep during the day
- Dry mouth upon awakening
- Depression, anxiety, and irritation
- Memory loss
- Trouble concentrating
THERE ARE TWO TYPES OF SLEEP APNEA
People may suffer from either obstructive sleep apnea, central sleep apnea, or a combination of the two.
Obstructive sleep apnea is most common. With this type, breathing is disrupted because of a physical obstruction like enlarged tonsils or fatty deposits that fill the throat as the patient relaxes during sleep. Snoring is a common symptom.
Central sleep apnea, on the other hand, happens when there's a disconnect between the brain and the muscles that control breathing. This can be caused by medications or other underlying conditions. Snoring may not occur in this type of apnea.
Mild sleep apnea of either type is classified as 11 or fewer episodes per hour. If you stop breathing more than that, it's considered severe. In some cases, sleepers stop breathing 30 or more times every hour.
HOW IS SLEEP APNEA TREATED?
Traditional treatments for sleep apnea include medical devices like CPAP machines and dental appliances that hold the airways open. In some cases, surgery may be recommended to remove excess tissue from the throat. Lifestyle changes like losing weight, giving up cigarettes, and reducing alcohol consumption can help too.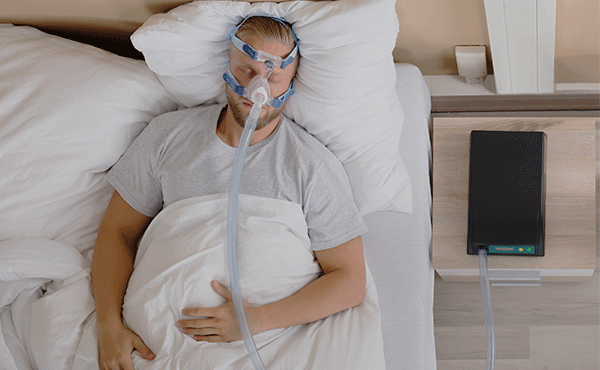 CAN MEDICAL MARIJUANA HELP SLEEP APNEA?
Both actual studies and anecdotal evidence suggest that medical marijuana can help those with both types of sleep apnea feel better when used alongside traditional treatment options. Here are five ways medical marijuana can help you sleep better at night and feel more energised through the day:
1. MEDICAL MARIJUANA HELPS SLEEP APNEA DIRECTLY
Two medical studies showed significant improvement in breathing when medical marijuana was used.
One study was conducted on rats. Both oleamide and delta-9-THC were isolated from cannabis and given to the rats to see if it could improve central sleep apnea related to an abundance of serotonin. Both chemicals had the desired effect.
Another study looked at 17 human patients with sleep apnea. They were given various doses of THC before they went to sleep. On average, symptoms were reduced by 32%. Subjects given higher doses of THC generally saw bigger improvements.
2. MEDICAL MARIJUANA IMPROVES SLEEP QUALITY
Certain indica-dominant strains help consumers fall asleep quickly and stay asleep longer, whether sleep apnea is an issue or not. By improving the overall quality of sleep, medical marijuana can help sleep apnea patients get the most from every minute of sleep they are able to, so that they feel more alert and energised during the day.
3. MEDICAL MARIJUANA REDUCES ANXIETY
It's hard to get a good night's sleep when anxiety makes troubling images race through your head. Unless you can calm your thoughts, you'll have a difficult time going to sleep. Combine constant worry and unsettling dreams with sleep apnea, and you have a dangerous combination. Medical marijuana can ease your mind and allow your body to relax so you can breathe better for a more peaceful, restorative night of sleep.
4. MEDICAL MARIJUANA IMPROVES MOOD
An uplifting, euphoric sativa can help regulate mood and provide hope to people who suffer from sleep apnea or any other type of sleep disorder. This can relieve depression symptoms and give them the mental fortitude to continue treatment and improve their overall quality of life.
5. MEDICAL MARIJUANA CAN ENERGISE YOU THROUGH THE DAY
Daytime fatigue is a serious problem for sleep apnea patients. Not only may they feel so tired they can't get anything done, many often fall asleep frequently. This can happen while they're sitting at their desk at work, or even while they're driving. A good sativa can also fight daytime fatigue and boost natural energy to combat some of the most debilitating side effects of this sleep disorder.
HOW SHOULD I CONSUME MEDICAL MARIJUANA FOR SLEEP APNEA?
If you have sleep apnea, your doctor will recommend that you stop smoking cigarettes. Common sense would say that you shouldn't smoke your medical marijuana either. Vaping is a healthier choice, but edibles might be even wiser if they work for you.
Edibles won't introduce any foreign substances into your throat or lungs, so it shouldn't have any direct impact on your breathing. Plus, edibles have an effect that can last 6–8 hours once it starts, which should get you through the night. Just remember it also has a 1–3 hour delay in action once ingested. It'll take a few tries to get your dosing time just right.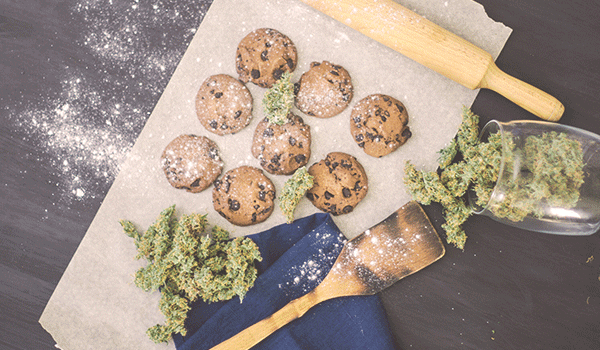 SHOULD I TREAT MY SLEEP APNEA WITH ONLY CANNABIS?
Sleep apnea is a serious medical condition that can have serious consequences if it's not adequately treated. At this time, there's not enough research to say that medical marijuana alone would be sufficient. The safest option is to use it under a doctor's care along with a medical device and lifestyle changes.